About Ecohotels.com
We plant a tree for every hotel booking
EcoHotels.com was founded in 2020 to promote sustainable tourism within the travel industry.
Find hotels with a purpose that matters
EcoHotels.com was founded in 2020 as a sustainable alternative to the dominant online travel agencies on the market (OTAs). We believe that tourism, one of the world´s largest industries, has the potential to be a power for good, bringing resources and connectivity to the world. EcoHotels.com welcomes all hotels and seek to be a positive influencer within the travel industry. We pledge to make it simple, transparent, and easy for you to make the best and most sustainable choice.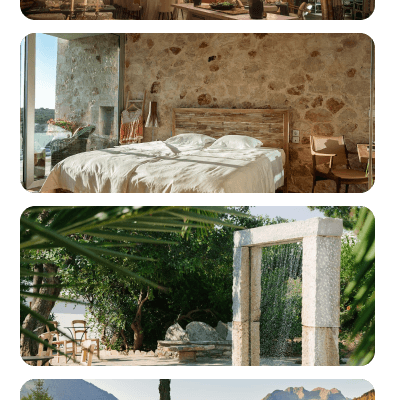 Sustainability is Key
EcoHotels.com is a resource for travelers who prioritize sustainability alongside a comfortable stay. We highlight hotels that have a demonstrated commitment to sustainability and hold credible certifications. Additionally, we aim to guide hotels that have not yet fully embraced eco-friendly practices towards a more sustainable direction. We recognize that sustainability can take many forms and that each hotel may have its own unique approach based on their specific circumstances and priorities. Therefore, we adopt a holistic perspective when assisting hotels in becoming more sustainable.
Find hotels and be climate active
By highlighting sustainable initiatives and eco-certifications of hotels, we support development towards more focus on sustainability in the hospitality industry. In addition, when you book a stay through us, we support reforestation and plastic clean-up, making the world a better place one booking at a time.
Why book with us?
Plastic for Rice
We have partnered up with Plastic Exchange, a sustainability initiative that empowers communities to change their waste behavior through dignity-based exchange systems that result in cleaner, healthier environments.
About us
One tree planted for every hotel booking
Every time you book a hotel through EcoHotels.com, we plant a tree in your honour to increase reforestation and eco-diversity.
One Booking = One tree
What we do
Find hotels with purpose that matters
At EcoHotels, we help you find hotels that are committed to sustainability and have the trustworthy certifications to prove it.
Book with Ecohotels.com
Ready to book your next stay with EcoHotels.com now?
Explore the most popular cities of the world, amazing tourist attractions and find hotels with purpose that matters.
Find Hotels