These breathtaking wedding venues love the planet as much as we do.
Want to reduce the carbon footprint of your wedding? We have collected 4 romantic wedding venues for eco-conscious couples who want to give back to our planet. When celebrating your wedding at one of these venues, you can rest assured that the dollars you spend on your wedding are contributing to social and environmental causes. These 4 wedding venues prioritize local people and the planet. Get to know the four venues we love for their oh-so-eco-chicness environmental consciousness below.
Tropical Wedding at Villa Armonia
Boca De Tomatlan, Mexico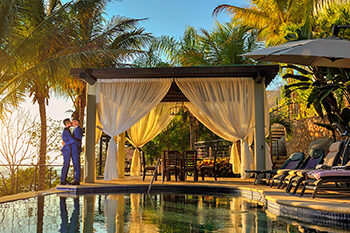 Say "I do" surrounded by your family and friends at the planet-friendly Villa Armonia Luxury Boutique Hotel.
The hotel is a gleaming oasis located along the lush, beachside region of Boca de Tomatlan, and serves as the perfect eco-friendly wedding venue. Harmonious blends of exotic and high-end finishes captivate anyone stepping inside this immaculate six-suite villa along the foothills of the southern Puerto Vallarta shores. Villa Armonia exudes a smooth transition between traditional, sustainable, and modern design. This luxurious hotel seeks to blend in and live in harmony with its beautiful surroundings, including the jungle and coast. With Planet-friendly initiatives, the hotel seeks a minimal environmental impact and supports environmental and social activities in the local community.
Romantic and historical wedding at Haraldskær Sinatur Hotel & Konference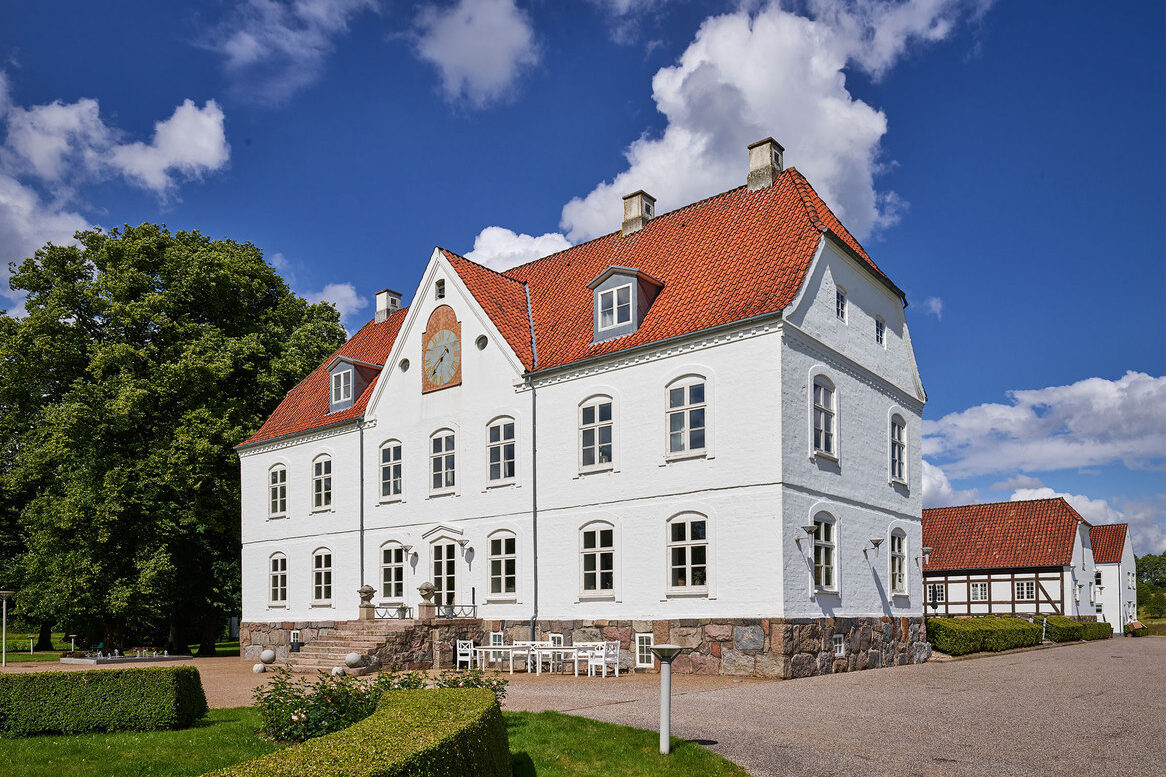 Once-in-a-lifetime occasions call for unforgettable celebrations.
Escape to this romantic and historical hideaway, and tie the knot in the heart of nature. The green surroundings of Haraldskær provide a magical backdrop for your eco-friendly wedding. Weddings at Haraldsskær are hosted in the name of intimacy, love, and sustainability. Exquisite, organic gastronomy, champagne at the water's edge, and kisses in the shade of the beautiful tree crowns await you. Haraldskær is a fully restored manor house with authentic charm and the picturesque Vejle River gently running through its grounds.
The hotel is proud to announce its membership of the UN Global Compact and its Ten Principles on human rights, labor, environment, anti-corruption, and Sustainable Development Goals. The Sinatur Hotels are the second Danish hotel chain to be a part of this initiative for responsible and sustainable companies. Every time an event is held at Haraldskær, the hotel buys 1 m2 of Danish land through The Danish Nature Fund that protects the environment, nature, water, and wildlife in Denmark.
Urban Jungle Wedding at Manon Les Suites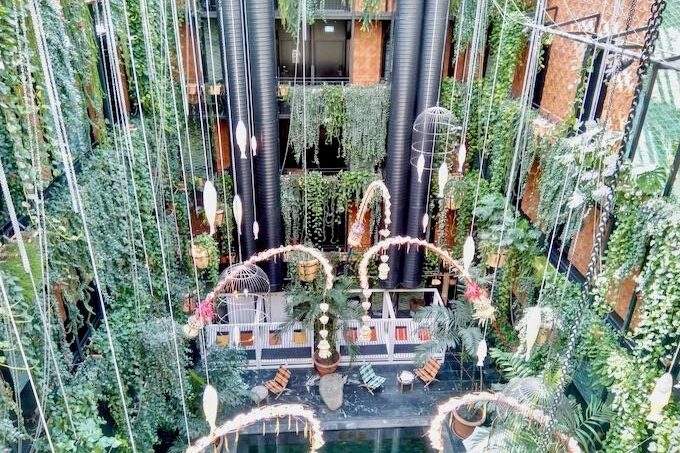 Bohemian eco-luxury and a festive atmosphere come together and create a slice of Bali in the heart of Copenhagen – The perfect eco-friendly wedding venue
Are you getting married? And do you wish to celebrate it with a beautiful eco-friendly reception that your guests will never forget? Look no further! The sustainable 5-star Manon Les Suites is the obvious choice. The hotel is known as one of the hippest and most sustainable hotels in Copenhagen. Bohemian eco-luxury and a festive atmosphere come together and create a slice of Bali in the heart of Copenhagen. All food and drinks are ecological and sustainable and served in the amazing Junglefish room, which contains a lovely turquoise pool encircled by 5 stories of balconies with thousands of green hanging plants and tropical decorations. The Green Globe certified Manon Les Suites is a pioneer of sustainable hotel operation and sets the highest standard for sustainability worldwide.
Beach-Side Wedding at Casa Chamaleon at Las Catalinas
Las Catalinas, Costa Rica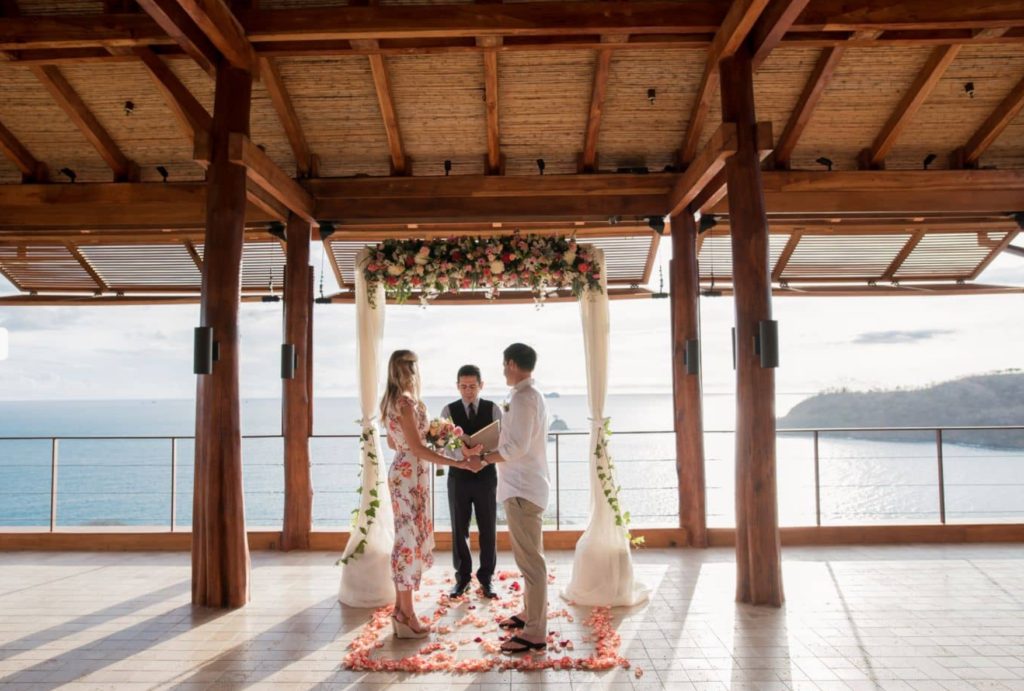 Celebrate the beginning of a lifetime surrounded by your loved ones amidst paradise at this tropical wedding venue.
Are you looking for fantastic scenery to carry out the happiest day of your lives? Look no more! Check out this amazing eco-aware property, and picture yourselves getting married amidst paradise. With Costa Rica's magical setting as the backdrop, the elopement package is designed to create intimate, authentic moments that you and your partner can cherish forever. Las Catalinas will orchestrate an occasion worth celebrating over and over again.
The spectacular local flora and fauna for which the region is recognized are treated with the utmost respect by this sustainable hotel. To preserve the beauty of the secluded paradise, the hotel has implemented a long list of sustainable practices focused on bettering its environmental and social impact. Alongside adopting water conservation practices, an ambitious recycling program, and providing monthly beach clean-up projects for the staff and guests, Las Catalinas Hotel invites its guests to give back to the local school and environment with its Plant-a-Tree program.