List your place on EcoHotels.com
Dear hotels, We'd love to invite you to join our effort to promote a sustainable future. We strive to be a positive change-maker in the travel industry. Our goal is to impact the hospitality industry in a more sustainable direction.
List your place now
If you are already listed, you can sign in here.
EcoHotels.com provides a booking site based on fair principles: low commissions, best practice sharing, and a sense of community – ensuring that we can continue to run our properties with passion.
BEING THE CHANGE...
EcoHotels.com is committed to giving back to the environment. For every booking, we support reforestation and plastic clean-ups in Bali with Plastic Exchange. EcoHotels.com aims at being a tool for the sustainability-conscious traveler who values commitment and responsible actions equally to a good experience and a comfortable stay
CERTIFICATIONS
We understand that there are various sustainability certifications available, with varying levels of rigor. To assist properties in achieving certification, we have chosen to use the Global Sustainable Tourism Council's list of approved certifications as our standard and primary recommendation. If you are working towards certification, please contact us and we will gladly assist you in the process.
BE A POWER FOR GOOD
Tourism is one of the world's largest and fastest-growing industries, and we have the potential to be a power for good. For that to happen, we need more facts, and more transparency. We hope to welcome you into our family and work with you towards a brighter and more sustainable future – full of exciting adventures across the globe!
Benefits
Free Promotion in our
Eco-Community
Travelers are demanding more sustainability in the travel industry, and what better way to highlight your sustainable initiatives than to showcase them to your future guests. We have a large community and would love to showcase your story on our social media.
Send us a mail to Sales@ecohotels.com with "OUR STORY" in the headline.
Low Commissions
We Only Charge 10%
We believe that tourism, one of the world's largest and fastest-growing industries, has the potential to drive economic growth and provide a positive experience for travelers. To support our hotel properties, we have established a fixed commission rate of 10%.
Our goal is to maximize revenue for our partners, enabling them to continue to improve their operations and provide exceptional service.
Increase your Bookings
With New Eco-Guests
We promise never to use google AdWords on your hotel name. We are only seeking to increase your bookings with new guests, and not steal the ones that are already searching for you.
Let's work together to ensure the increased focus on a better future.
How to Apply
When the sign-up is completed, we'll receive an application. Once the application is accepted, the profile creation process can start.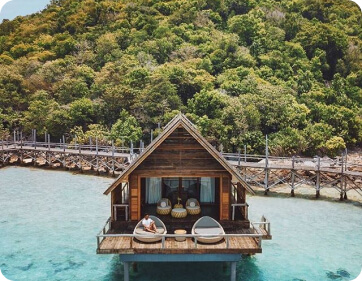 Profile Creation
After your application has been accepted you can start creating your profile!
Download guide
Still have questions?
EH will invoice the Hotel for commission on a monthly basis normally on the 10th business day in a calendar month for the commission in the preceding calendar month.
The commission is due within 14 days after the invoice date. Where applicable the value added tax will be added.
We charge commission of everything sold through our platform. If you have a cancellation policy where there will be a cancellation fee, we will also charge the 10% commission of this cancellation fee as well.

The Commission per reservation is equal to the number of nights reserved at the Hotel by the guest, as set or uploaded to Ecohotels.com including VAT, sales taxes and other applicable taxes and also other add-ons ordered on Ecohotels.com (such as breakfasts, meals, bicycle rental, late check-outs/early check-in fees, extra person charges, resort fees, roll-away beds, theater tickets, service fees, etc.).
Fill in the "
Hotel sign up!
" form and click on "send form". Your hotel will be evaluated for participation. The next step is to sign our hotel agreement and finalise your participation by uploading information on the
EcoHotels.com
extranet.
We do not charge anything to register your hotel with
EcoHotels.com
. You only pay a commission over the booked room nights for your hotel through
EcoHotels.com
.
You can update availability and rates online via the
EcoHotels.com
extranet. Our team will assist you in making changes to content, rates and/or availability of rooms.
You will receive the confirmation by email and in your extranet overview (after a booking is made online).
Guarantees, deposits, or pre-payments may be required to reserve a hotel booking in advance of the hotel stay.
A charge is not made to the credit card. Rather, the card number is held against a cancellation that violates the hotel's cancellation policy. The guest pays at the hotel upon arrival or departure.
Credit Card: A charge is made to the credit card (typically one night's stay). If the booking is cancelled, the deposit is forfeited to the supplier.
Requires payment at the time of booking for part or all of the hotel stay at the time of booking.
Some hotels do not require a credit card guarantee or deposit. Typically, these hotels will guarantee the room for a specific arrival time, such as 6:00 PM. If the traveller does not check in by the guaranteed time, the room will not be held for them.
It is important to offer the best room rates and the best possible availability. Furthermore, having a truthful and informative hotel description including actual photos of your hotel will help us sell your rooms. Our team will support you in getting the best out of the
EcoHotels.com
website.
If you still haven't found the answer to your question, please reach out to support@ecohotels.com